PRF Plus for Hair is an enhanced version of a PRF treatment that incorporates Microneedling . First, a small vial of your blood is drawn and centrifuged. Then, the growth factors and healing cells (platelets) in the blood are separated and injected into the scalp following a Microneedling treatment. PRF Plus treatment stops and reverses hair loss by nourishing the hair follicles and promoting the natural growth of hair, adding volume to hair or beard.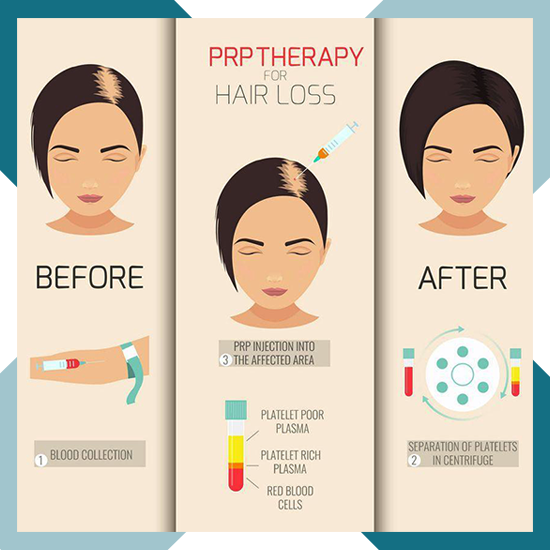 FREQUENTLY ASKED QUESTIONS
PRF Plus has the benefits of both a Microneedling treatment and a PRF injection. As a result, it boosts the production of collagen and elastin, while using your body's own growth factors to promote healing. When applied to the scalp, PRF Plus can help grow thicker and fuller hair. This treatment is ideal for people suffering from hair loss or those who want healthier hair with enhanced volume. This treatment can also be applied to thinning areas of a man's beard to help grow a thicker beard.
Some results may be visible within weeks of treatment. Multiple treatments may be required for best results. Optimal results from PRF Plus are usually seen 3 to 6 months post procedure.
The results of PRF Plus are permanent in most cases. It is important to get follow-up treatments to achieve effective, long-lasting results.
PRF Plus is ideal for men and women who want to stop and reverse hair loss. It is also great for those who want to naturally enhance hair volume without using hair extensions. PRF Plus works best for early-to-mid stages of hair loss. It is a great preventative treatment to stop the advancement of hair loss by nourishing the hair, allowing it to grow back naturally.
Each treatment usually takes about 45 to 60 minutes.
This treatment requires drawing a small amount of blood. The extracted PRF solution is then injected into the scalp or applied topically after a Microneedling treatment. Topical anesthesia may be used to numb the scalp before these superficial injections are performed.
As a minimally-invasive non-surgical treatment, PRF Plus is very safe and usually has few-to-no side effects. The most common complications are minor redness or irritation of the skin, which usually resolves on its own within days after treatment. Since the PRF is derived from your own body, the risk of allergic reactions is low.
PRF Plus treatment is autologous, which means it contains substances that come directly from your own body. This reduces the risks for an allergic reaction to a foreign substance. This treatment may cause redness and minor irritation of the treated area. In rare cases bruising may occur. These side effects are generally short-lived. Call us for more information about the safety of PRF Plus.
Do not get PRF Plus if you have active acne, sun-burn, cold sores or infection in the treatment area. Do not get PRF if you are pregnant or nursing, or if you have eczema, hemophilia, a bleeding disorder, psoriasis, keloidal tendency, cancer or an autoimmune disease. Call us for more information about the contraindications of PRF Plus.
ARE YOU READY TO LOOK AND FEEL GOOD?
Guiding you, THE WHOLE YOU, to better health