PDO Thread Lift Treatment
During a Thread Lift treatment, special FDA-approved absorbable filaments are inserted into sagging skin to gently pull the skin together and give a natural lifting effect. This treatment tightens the skin, boosts collagen production, and can be used to contour the face, neck or body. Thread Lift is very popular because it is a much safer and less expensive alternative to a face lift, butt lift or breast lift.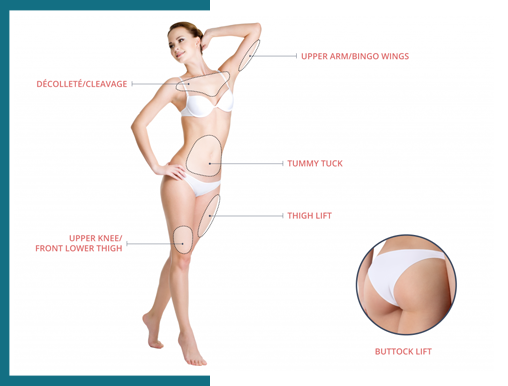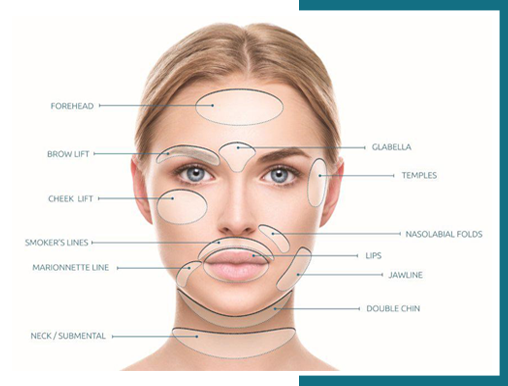 FREQUENTLY ASKED QUESTIONS
This treatment is used to lift sagging skin on the face, neck and body, giving you a fast, easy, and nearly painless facelift without surgery. You can resume your daily routines immediately after the procedure. This treatment can be used to lift and contour various parts of the body, and can also boost collagen production to naturally rejuvenate your skin.
Subtle results appear immediately after treatment. However, the best results are usually not seen until a few weeks post treatment, once new collagen has formed.
The results from a Thread Lift treatment can last 2 to 5 years.
Thread Lift is popular among men and women of all ages. A Thread Lift treatment not only improves your appearance but also boosts the natural production of collagen so your skin maintains a youthful appearance.
The duration of the procedure depends on the number of "threads" used. A typical Thread Lift treatment takes about 30 to 45 minutes.
The pain with this treatment is minimal because the area is numbed with local anesthesia. Pain and bleeding are usually no more than that of a simple injection.
Because this treatment is minimally invasive, most patients do not have any downtime and can return to their daily routine immediately. It is not recommended to have a Thread Lift right before a special occasion due to minor chances of bruising or swelling.
As a minimally-invasive procedure, this treatment generally has much fewer complications than surgical facelift, breast lift, or butt lift. The special "threads" used have been rigorously tested and used worldwide. To ensure maximum safety, this treatment should be administered by a medical professional who is highly trained in the procedure.
Like any procedure using a needle, there is a chance of bruising or swelling that usually resolves quickly. In very rare cases, the "threads" may slightly migrate or become visible. In such cases, the threads can be removed, replaced, or readjusted at a follow-up visit.
Do not have this treatment done if you have an active infection in the area to be treated, are allergic to PDO sutures, or have a history of keloid scars. Do not get this treatment if you are pregnant or nursing.
The number of "threads" needed during treatment depends on your skin and beauty goals.
ARE YOU READY TO LOOK AND FEEL GOOD?
Guiding you, THE WHOLE YOU, to better health